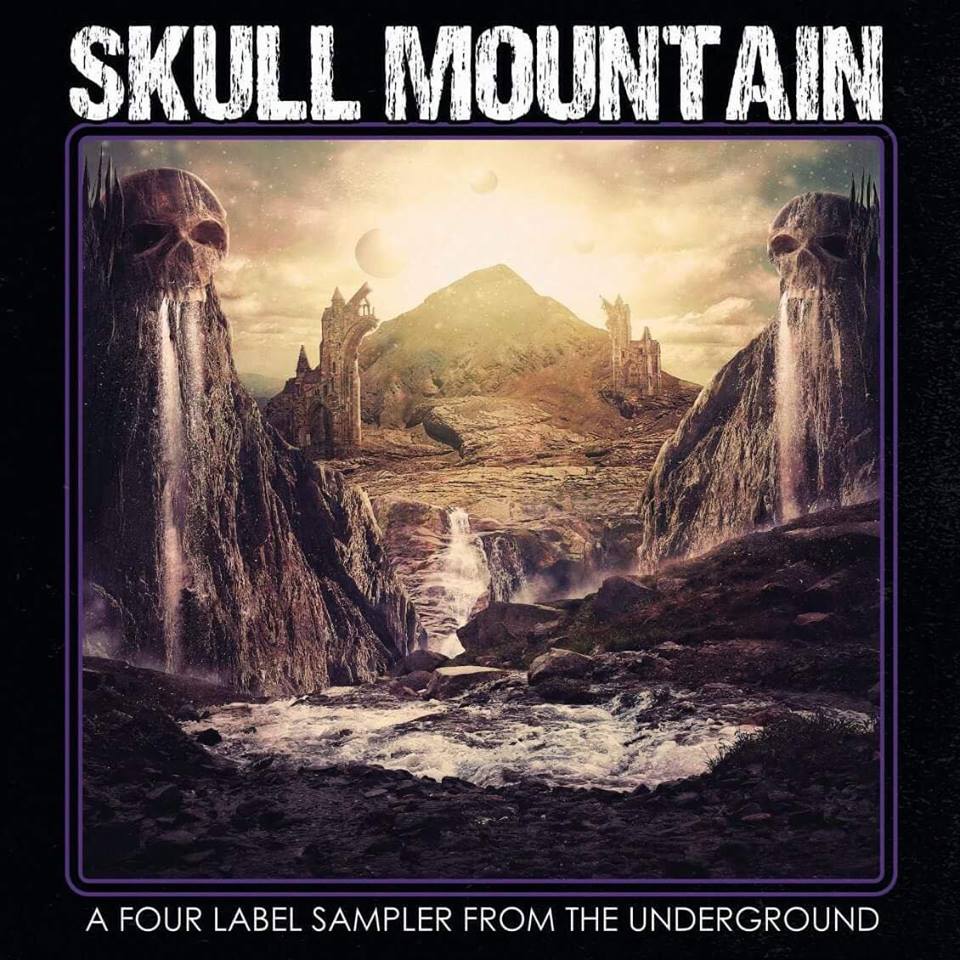 Nothing like this had ever been done before!
​Over a year in the making!  What may be the world's first Four-Label collaborative effort to bring together some of the best heavy psych, stoner, doom from both sides of the Atlantic.  Two US-based labels, Ripple Music and Twin Earth Records, join forces with two European-based Lables, DHU Records and Kozmik Artifactz to bring forth a double album of epic proportions, something so massive it could only have it's own monolith, Skull Mountain.
Each Label showcases one full album side of it's signature sound, each song previously unreleased or unreleased mix.  The entire album mastered to perfection by Tony Reed at HeavyHead.
Inside the gatefold, Tarot cards display the four element theme of Skull Mountain with each Label represented by it's own signature element, Ripple-Water; Twin Earth-Earth, DHU- Fire, and Kozmik- Air.  Accordingly, each label has a limited amount of vinyl available in it's own signature elemental color, Ripple-Blue, Twin Earth – Green, DHU-Red, and Kozmik- Clear
That's right!  Only 500 of these stunning 2xLP albums were pressed, with each label only having 125 in it's signature color.   Once they're gone, they're gone.  Available at Ripple Music www.ripplemusic.bigcartel.com/products, Twin Earth Records,  http://twinearthrecords.storenvy.com, D.H.U Records, darkhedonisticunionrecords.bigcartel.com​, and Kozmik Artifactz  www.kozmik-artifactz.com
An epic introduction into the worlds of North American and European heavy music.  A monumental journey to Skull Mountain
Track Listing:
Side Ripple
The Watchers – Starfire (Cosmic Nebula mix)
Kingnomad – Dewer's Hollow
Blackwulf – The Tempest (Black Tide mix)
Vokonis – Celestial Embrace
Side Twin Earth
Alastor – Blood on Satan's Claw
Kabbalah – Abomination
Starts that Move – Give It All Away
Haunted – Crossmoth
Side D.H.U.
Disenchanter – More Evil Than Thou
Dawn – Day of the Lord
Witch Ritual – Drawing Down the Moon
Youngblood Supercult – Sticky Fingers
Side Kozmik
The Heavy Eyes – Home
Devil Electric – Devil's Bells
Red Spektor – Devil's Keeper
Hair of the Dog – My Only Home​